Location
Berliner Allee 2
40212 Düsseldorf
Contract
Permanent Contract full-time
More details
Benefits
Video reports

These are your colleagues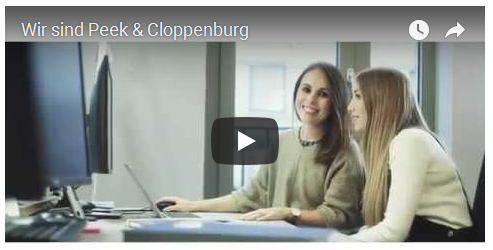 We are top employers




Merchandise Controller (m/w/d)
Bei Peek & Cloppenburg vereinen wir vieles, was man so nicht unbedingt erwartet: Wir sind nicht nur Modehändler, sondern leisten von Design und Produktion unserer Eigenmarken bis zur Warenpräsentation alles selbst. In rund 140 Verkaufshäusern und unseren Unternehmenszen­tralen in Düsseldorf und Wien geben über 16.000 Mitarbeiter verschiedenster Fachrichtungen jeden Tag ihr Bestes – und das für Märkte in 15 Ländern. Dadurch erwarten Sie bei uns eine besondere Vielfalt und sicher auch neue persönliche Herausforderungen.
WAS SIE ERWARTET
Selbständige Erstellung der saisonalen Einkaufsplanung im Hinblick auf Budget- und Sortimentsrahmen
Bewirtschaftung des aktuellen Sortiments in den Verkaufshäusern
Erfolgsverantwor­tung für die Erreichung ergebnisrelevanter Kennzahlen
Selbstständige Durchführung von Auswertungen und Aufbereitung von Reports für den Einkauf in Vorbereitung auf Ordertermine und Sortimentsein­teilungen
Direkter Kontakt mit internationalen Lieferanten
Schnittstellen­management zwischen Ein- und Verkauf
WAS SIE MITBRINGEN
Abgeschlossenes betriebswirtschaf­tliches Studium mit erster Berufserfahrun­g ODER
Kaufmännische Ausbildung mit einschlägiger Berufserfahrung
Ausgeprägtes Zahlenverständnis und analytische Fähigkeiten
Schnelle Auffassungsgabe und strukturierte sowie selbstständige Arbeitsweise
Kommunikations- und Teamfähigkeit
Interesse an der Mode- und Handelsbranche
WAS WIR BIETEN
Vielfältige Projekte in einem der erfolgreichsten Modeunternehmen Europas
Dynamisches Arbeitsumfeld geprägt von Teamorientierung und Eigenverantwortung
Exklusives und vielfältiges Warensortiment
Persönliche und professionelle Weiterbildung
Individuelle Entwicklungsmöglichke­iten
Attraktiver Arbeitsplatz in sehr guter Lage
Mitarbeiterrabatt in P&C Verkaufshäusern
Kultur-, Sport- und Gesundheitsangebote
STANDORT Düsseldorf │ EINSTELLUNG Vollzeit │ ANSPRECHPARTNER Tanja Vellekoop, Human Resources
Four steps to a successful application
1

PREPARE ALL THE NECESSARY DOCUMENTS

2

UPLOAD THE DOCUMENTS TO THE APPLICATION FORM

3

A CONFIRMATION E-MAIL WILL BE SENT TO YOUR E-MAIL ADDRESS

4

PLEASE NOTE: IT MAY TAKE A LITTLE LONGER FOR US TO GET BACK TO YOU WITHIN BUSY APPLICATION PERIODS.
Required documents
Curriculum vitae
Certificates
Cover letter
Photo
Similar jobs
You may also be interested in these vacancies from our job board.