Location
Immermannstr. 40
40210 Düsseldorf
Contract
Permanent Contract full-time
More details
Benefits
Video reports

These are your colleagues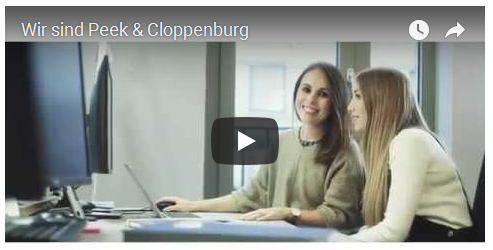 We are top employers




Frontend Developer (Vue.js) (m/w/d)
Werden Sie Teil der Peek & Cloppenburg KG mit Sitz in Düsseldorf und starten Sie Ihre Karriere bei unserer Tochtergesellschaf­t, der Fashion Digital GmbH & Co. KG. Die Fashion Digital ist unser zentraler IT-Dienstleister, der sämtliche IT-Services entlang der P&C-Wertschöpfungskette verantwortet. Gemeinsam mit Ihnen möchten wir unser Unternehmen voranbringen, innovative Lösungen entwickeln und Neues gestalten.
WAS SIE ERWARTET
Konzeptionierung, Neu- und Weiterentwicklung sowie kontinuierliche Anpassung von Frontends bestehender und neuer Anwendungen
Integration und Migration von Anwendungen auf eine moderne Plattform mit Docker und Kubernetes sowohl in die AWS- als auch in eine onPrem-Cloud
Verantwortung für Software-Design, Programmierung, Code-Reviews, Testing, Deployment und Wartung
WAS SIE MITBRINGEN
Erfahrung in der Frontend-Entwicklung
Sehr gute Kenntnisse in mind. einem JavaScript-Framework (idealerweise Vue.js inkl. Vuetify)
Kenntnisse im Umgang mit Atlassian Tools (Jira und Confluence)
Erfahrungen mit Versionskontro­llsystemen (GIT) sowie mit Web-Services (REST und SOAP), Docker
Ausgeprägte gestalterische Fähigkeiten
WAS WIR BIETEN
Vielfältige Projekte in einem der erfolgreichsten Modeunternehmen Europas
Dynamisches Arbeitsumfeld geprägt von Teamorientierung und Eigenverantwortung
Persönliche und professionelle Weiterbildung
Individuelle Entwicklungsmöglichke­iten
Attraktiver Arbeitsplatz in sehr guter Lage
Kultur-, Sport- und Gesundheitsangebote sowie Firmenticket und Corporate Benefits
STANDORT Düsseldorf │ EINSTELLUNG Vollzeit │ ANSPRECHPARTNER Anne Brockerhoff, Human Resources
Four steps to a successful application
1

PREPARE ALL THE NECESSARY DOCUMENTS

2

UPLOAD THE DOCUMENTS TO THE APPLICATION FORM

3

A CONFIRMATION E-MAIL WILL BE SENT TO YOUR E-MAIL ADDRESS

4

PLEASE NOTE: IT MAY TAKE A LITTLE LONGER FOR US TO GET BACK TO YOU WITHIN BUSY APPLICATION PERIODS.
Required documents
Curriculum vitae
Certificates
Cover letter
Photo
Similar jobs
You may also be interested in these vacancies from our job board.