Location
Berliner Allee 2
40212 Düsseldorf
Contract
Student Worker
More details
Benefits
Video reports

These are your colleagues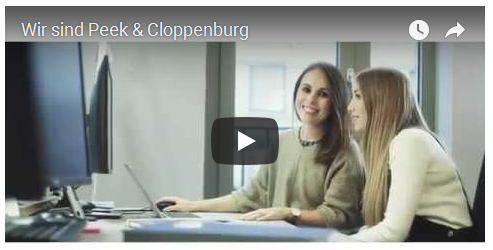 We are top employers




Werkstudent HR Employer Branding Online Communications (m/w/d)
Bei Peek & Cloppenburg vereinen wir vieles, was man so nicht unbedingt erwartet: Wir sind nicht nur Modehändler, sondern leisten von Design und Produktion unserer Eigenmarken bis zur Warenpräsentation alles selbst. In rund 140 Verkaufshäusern und unseren Unternehmenszen­tralen in Düsseldorf und Wien geben über 16.000 Mitarbeiter verschiedenster Fachrichtungen jeden Tag ihr Bestes – und das für Märkte in 15 Ländern. Dadurch erwarten Sie bei uns eine besondere Vielfalt und sicher auch neue persönliche Herausforderungen.
WAS SIE ERWARTET
Erstellung, Abwicklung und Veröffentlichung von zielgruppenge­rechtem Content auf unseren Social Media Kanälen von P&C als Arbeitgeber
Mitentwicklung und Unterstützung bei der Umsetzung von Paid Social- und ggf. Influencer Kampagnen
Erstellen von Reportings, Benchmarks und Daten-Analysen
Pflege und Management des internen Karriereblogger Netzwerks
Koordination interner und externer Schnittstellen
Recherche und Erarbeitung neuer Konzepte zur Zielgruppenan­sprache im Employer Branding
Verantwortung für kleinere, eigene Projekte im Online Communications Bereich
WAS SIE MITBRINGEN
Eingeschriebener Student (m/w/d), bevorzugt im Bereich BWL oder Medienwissenschaf­ten im Bachelor-/Masterstudium
Hohe Affinität für Social Media- und Online Marketing auf Instagram, Facebook und LinkedIn und Youtube
Ausgeprägtes analytisches Denkvermögen, Zuverlässigkeit und Verantwortungsbe­wusstsein
Sehr gute organisatorische und kommunikative Fähigkeiten sowie Teamgeist
Ausgeprägte Kommunikation­sfähigkeit in Deutsch und Englisch
Sicherer Umgang mit MS-Office
WAS WIR BIETEN
Teamorientiertes Umfeld
Eigenverantwor­tliches Aufgabengebiet
Personalrabatt
Kultur-, Sport- und Gesundheitsangebote
STANDORT Düsseldorf │ EINSTELLUNG Teilzeit, vorerst befristet auf 6 Monate │ ANSPRECHPARTNER Claudio Colazzo, Human Resources
Four steps to a successful application
1

PREPARE ALL THE NECESSARY DOCUMENTS

2

UPLOAD THE DOCUMENTS TO THE APPLICATION FORM

3

A CONFIRMATION E-MAIL WILL BE SENT TO YOUR E-MAIL ADDRESS

4

PLEASE NOTE: IT MAY TAKE A LITTLE LONGER FOR US TO GET BACK TO YOU WITHIN BUSY APPLICATION PERIODS.
Required documents
Curriculum vitae
Certificates
Cover letter
Photo
Similar jobs
You may also be interested in these vacancies from our job board.