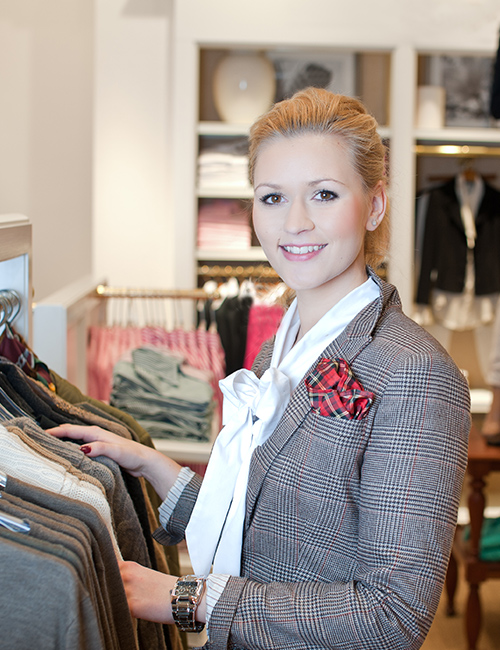 "If you enjoy your work, everything is possible."
Magdalena Sarnowska
Magdalena Sarnowska participated in the Trainee Programme from October 2011 to April 2012. In September 2013, she became store manager for P&C in Vilnius, Lithuania. Since May of this year she has been back in Poland and in charge of the P&C store in the shopping centre Arkadia in Warsaw.
What have been the highlights of your life so far?
One thing that stands out is my Erasmus semester in Germany. During this time, I became aware of the fact that there are plenty of job opportunities outside my home country of Poland. I experienced an international environment for the first time and this somehow gave me a better picture of everything. This experience helped me to discover that working internationally would enrich me professionally.
Why did you apply to work at P&C?
Right after my graduation I saw a P&C job offer online. I applied for an internship in Warsaw and got accepted. At the beginning, fashion didn't really matter to me. This passion only emerged later on in my career. After the internship I started with the Trainee Programme. There I received in-depth training for my first position as a department manager.
What challenges have you had to tackle working at P&C so far?
So far, the most difficult thing for me was moving to Lithuania. I was in the Baltics for almost three years and every day was a personal and professional challenge. Since I didn't know the local language, I had to use English and sometimes German to communicate with my team. This makes knowledge transfer harder than in a monolingual environment.
How well do you fit in with P&C?
Very well. I have been working at P&C for five years now, and I have advanced from intern to store manager. So I guess I fit in! But I can honestly say: I love what I do. At P&C we, the employees, are seen as an asset. We get to participate in many training courses that are extremely well planned to align with our career paths. Moreover, we are provided with contact persons, and special events are held for the employees all year round. As of last year, we now have our own running team and we participate in the biggest running events organised in Poland. Last but not least – the pay is great.
What do you like about your job and responsibilities?
The variety of tasks: it's a mix of sales, commerce, working in a team, interacting with customers, and figures and analysis.
In your opinion, what are the characteristics required to succeed in fashion retail?
I'm very target and outcome-oriented. What's more, I enjoy working in a team as well as interacting with customers, which I believe is fundamental for a career in this field. Even store managers and department managers spend the majority of their day working with people.
What are your wishes for your future development?
In three to four years, I envision myself as a store director. This position includes broader responsibilities. I would head up a subsidiary with its entire team and all their sales on my own.
What is your advice for new P&C employees?
To not shy away from the number and diversity of the tasks. At the beginning I felt completely overwhelmed and thought it was impossible to tackle everything. But if you enjoy your work, everything is possible.